Residential Detox Fasting Retreat ~ Historic Julian, CA Nestled in the Forest with Antique Furnishings
1 QUART

ORGANIC

GREEN JUICES INCLUDED DAILY AT NO EXTRA COST.
32 Years Experience (Pioneer), Health Consultant Specializing in the Field of Detox/Fasting.
Personal One-on-One Care for You During Your Stay.
The following are included in Retreat price: $1550.00
Lovely private room
Fruit Smoothie
Organic food prepared for you to break fast last day (food cost not included)
Intestinal Cleansers: 32 different cleansing herbs
Intestinal Cleansing Administered Daily (Professional Colonics) State of the Art equipment and disposables *See Photo Below
Whole Body Vibration Equipment (See Photo Below)
Thundervolt Zapper incredible results and intensifies detoxification go to:  www.thundervoltzap.com for amazing information
Parasite Tendency Research Test
Toxic Metal Tendency Test
Tongue Scraper
Probiotics
Peaceful, loving environment
SALT WATER Swimming Pool and SALT WATER Jacuzzi

Ionic Foot Detoxifier
Nutritional Consulting
Nutrition Classes
Pilates
Bicycling
FREE Herbal Prep Program Mailed
Hot Vegetable Broth
Certified Colon Hydro Therapist of 31 years experience
Chi Machine
Rebounder
Health DVD, Video and Book Library
Pick up and delivery to airport for a nominal fee
Parasite program
EXTENDED WATER, OR MASTER CLEANSE AVAILABLE
2 Autographed books: Cleanse Internally to Become Younger & Vegetarian Delights Cookbook
Inversion Flex System
High Speed Internet Access
INFRA RED SAUNA
Zumba classes
Body Brush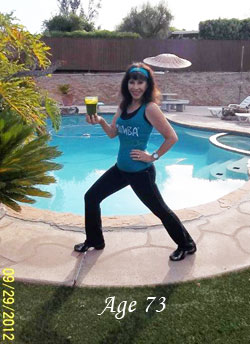 NOW AVAILABLE AT FASTING RETREAT
AWESOME WHOLE BODY VIBRATION EQUIPMENT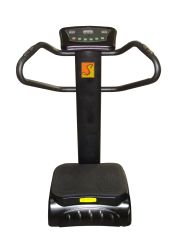 Benefits of using WHOLE BODY VIBRATION EQUIPMENT
Build bone density
Increase circulation
Stimulate rapid inch loss
Provide lymphatic drainage
Strengthen muscles
Improve balance
Reduce aches and pains
Relieve stress
Increase energy
Improve sleep patterns
Balance mood
Benefits of Inversion Flex System
Decreases chronic back pain
Reduces muscle tension
Increases blood flow
Reduces depression condition
Improves circulation
Increased alertness
Strengthening of ligaments
Increases flexibility and posture
Re-aligns spinal column
Also Available (Not Included in Price):
Massage
Liver Gallbladder Flush
Coffee Implants
Probiotic Implants
Whole Foods Shopping Tour
To Make a Reservation, $300.00 Non-Refundable Deposit can be paid by calling 619-562-5446.
Detox Fasting Retreat
She has a  BS, CCT is the author of 2 books, "Cleanse Internally to Become Younger" and "Vegetarian Delights", a 185 page cookbook. She is an Instructor of Colon Hydrotherapy, a lecturer, and Nutritional Consultant.
For more information or to reserve, call 1-619-562-5446.
Testimonials
When I was in jail, I was poisoned. When Lori picked me and hid me for a week (i.e., not home) was in bad shape. Millan Chessman, who runs Millan Chessman, A ONE fasting retreat wrote to me in jail and somehow called Lori and offered a free Fasting Retreat to restore my health and get me back into the game. Both Lori and I accepted her offer and in one (1) week I was back. Since then Lori and I have changed our diet and exercise more. I highly recommend Millan's Retreats! God used Millan to restore my health. What happen to me in jail is another story that perhaps I'll share at another time.
~Walter Hoye
Note: Walter was jailed for a Right to Life protest
FROM THE OWNER OF THE LARGEST COLONIC CLINIC IN USA

Thanks so much for the wonderful rest at your lovely Julian Retreat. As a holistic practitioner of over 20 years, I realize the value of taking time to help others out also to – "Heal the Healer" so that we may be rejuvenated and help yet again.

The mountainside location is peaceful and serene. The accommodations and atmosphere ideal and the colon therapy wonderful.

You are a blessing to me and so many others over your 30 years as a practitioner. Your compassion for others makes you a special person doing a divine work.

Thank you

Jessee R Brown – Detroit Michigan
The first day of my fasting stay, I passed an 8" worm in the toilet.Thereafter I kept passing worms.

I have had lung issues in the past. I could only swim no more than 1 lap without great struggle.

By the last day of my fast i swam 10 laps. That is short of miraculous. I lost 2 inches around my waste and 1 ¼ inch around my hips in the 7 days of my fasting retreat.

With great emotion, I am ecstatic about this improvement.

Thank you,

Ora
As a fit marathon runner of 44 years of age I had never dieted, fasted, detoxed or sort detailed advice on nutrition. However, after injuring my back recently, followed by and a bout of shingles, I realised that I had to take more interest in how I fuel my body. I couldn't have found a better place to detox and educate myself about diet and nutrition than at your retreat

Firstly, although I live in London I was happy to travel to San Diego for a week. The location in Julian was like staying in a European ski resort at 1,200m. This made my stay very relaxing and the views when running or walking were spectacular. With a great Wi-Fi service, I was also able to Skype my family every day with no delays.

The program of green and fruit smoothies, intestinal cleansers and herbs in combination with daily colonics really got my body rebooted ready for a healthier lifestyle. I also had enough energy for daily exercise and never felt tired. The sauna and Jacuzzi were also very relaxing along with the amazing massages.

In addition the one-to-one care, nutritional advice, information sheets, DVD library and lectures really helped me to fast track my knowledge. The food prep was good fun and the meal to break the 'fast' was fantastic.

On returning to London I could already feel the benefit of the changes to my diet. I have already purchased a Vitamix Blender and have started to make green smoothies for my wife and me every morning. And my children aged 9, 7 and 3 are enjoying a daily fruit smoothy with us too!

My physiotherapist has assessed my back injury since returning to London and now believes are I will make a full recovery, which was not the case before my week with at your retreat!

I am now embarking on a much healthier lifestyle for me and my family following spending truly amazing week with you. Here's to many more years running!

Thank you so much

Gavin
London, England
 I wish to share my extreme gratitude with you over my 7 day stay at your retreat. Over the years Ii have been to many retreats seeking health, and I must say my experience with you far surpasses any place I have stayed in the past and there have been many. Your knowledge and expertise is amazing!! This was the easiest and most effortless fast I have ever done, and I haven't fasted in over 10 years. I will be recommending your program to my family and friends and I will be back!! God bless you! Sincerely Diane Molt
I would like to say thank you so much for my stay at the fasting retreat. I felt it was very successful and extremely educational. You and Jeff are super people. I look forward to the rest of my life at being very healthy. thank you for helping me take my first steps.

Sincerely Dan
 In June, 2004, I was diagnosed with ulcerative colitis. A Colonoscopy had been performed revealing numerous ulcers throughout my colon. My doctor immediately started me on prescription drugs. I went a whole year without any major flare ups. Unfortunately that ended and I was again running to the bathroom with uncontrollable urgencies.
I have completed her program of detox and now am eating only natures foods. This has drastically improved my condition. I know she the only reason that I am feeling and doing so much better. Thank you
 I want you to know that before I stayed at the fasting retreat I had been diagnosed with breast cancer. After completing my fasting program at your fasting retreat, I went back to my M. D for lab work and testing and they have notified me that they cannot find any traces of cancer in my body.

God bless you. Karen
 As a person who is over 60 years old and have been concerned with the quality of my health as I grow older, I would like to say how much I appreciated your fasting retreat.
As you know, my primary health concerns were detox of the body and removal of parasites. I was very pleased to see round worms from small to large, 24-30 inches, make their way out. Obviously, your experience and skill contributed greatly to the results.
Your detox program along with some herbs for parasites certainly has helped me regain my body's natural feeling of lightness, healthiness and well being.
Additionally I would like to thank you for seeing to our personal needs such as lodging, internet access, transportation to and from the airport, and the overnight stay in Julian mountains. My wife and I also enjoyed the short trip to Tijuana. These little trips made time go by a lot easier and faster while on your cleansing program. Taking time out from your personal schedule to see to our comforts meant a lot to us.

Until we see each other again, take care and live well.

Sincerely,

GG from Washington state
Thanks so much for this last week.

My husband and I were both overweight, he was a diabetic and i had a chronic cough. Also bowels had been completely stopped up only three months ago.

Larry was diabetic and now his blood sugar is normal. When we came to your retreat, Larry's blood sugar was anywhere from 150 to 190 first thing in the morning. He was taking prescription medications (2 avandamet every day). Even though he'd also made some changes to his diet (eliminating sweets) and he'd started exercising, his blood sugar was not going down. At the fasting retreat his blood sugar went down and on day 6 it was 85. It has not gone above 110 all day. That's the lowest it's ever been since we found out he was diabetic and started testing. It is now in the normal range. This morning he felt rested and has a lot more energy and his mind is clearer. We forgot to bring his medicine, so the lower blood sugar levels were obtained without medicine!!!! We won't be refilling that prescription.

My chronic cough is totally gone, which i had for 3 months.

We walk every morning and the area around the retreat is so beautiful and so is the weather. Larry's joints were hurting when we started, but that's almost completely gone now.

We did the ionic spa at home, but here we get much more impurities out with your detox unit. We were amazed.

Larry found the colonics more gentle than the ones he had before. We passed a lot of old black waste, sometimes 6 to 8 inches and very smelly. We also passed worms from the parasite program. Unbelievable!!

Not only do we feel healthier already after the retreat, we also feel that we know what we need to do to continue to get healthier. Thanks for all the information and knowledge you gave us. For the first time, I feel that we know what we need to do for the rest of our lives to stay healthy.

Aline and Larry
I was stunned to see the results of my cleanse at your fasting retreat. I Had no idea that old fecal matter was in me and all the mucous was caused by Animal based diet. I passed a lot of worms and that was shocking. It was The most beneficial thing i have done in my life. The ion spa pulled debris From my joints and i have osteopenia and arthritis..

Sheryl.
32 YEARS FASTING/DETOX EXPERIENCE:
She is a Fasting Specialist and is the author of two books – Cleanse Internally and Vegetarian Delights: a 185 page cookbook. She is an Instructor of Colon Hydrotherapy, a lecturer, and Nutritional Consultant.
For more information or to reserve, call 1-619-562-5446.
---