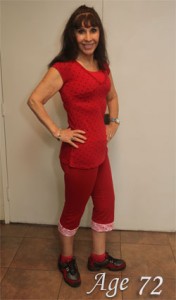 Health Practitioner, Certified Colon Hydro Therapist, Author, Lecturer, Credentialed Instructor through I-ACT (International Association of Colon Hydro Therapists), is the creator of "Millan's Home Colonic Cleansing Kit."
She has been a fasting counselor for the past 35 years and was the owner of the largest detox health clinic in San Diego. Her clinic administered over 30,000 cleansing programs.
Colon cleansing is a procedure of cleansing the body, resulting in the release of toxins, poisons, carcinogens and free radicals. Dr. Norman Walker, who lived to be 118 years old, stated that death and disease are a result of a toxic body.
At age 77 you will see Millan is one that walks the talk. Come and learn far reaching nutritional guidelines that will change your life. Millan teaches Zumba aerobics and is the only licensed great grandmother Zumba instructor in the world.
You will sense her caring loving disposition as soon as you meet her. Her goal is that you will accomplish your health target and purpose. You will not be disappointed.
FROM THE OWNER OF THE LARGEST COLONIC CLINIC IN USA
Thanks so much for the wonderful rest at your lovely Julian Retreat. As a holistic practitioner of over 20 years, I realize the value of taking time to help others out also to – "Heal the Healer" so that we may be rejuvenated and help yet again.

The mountainside location is peaceful and serene. The accommodations and atmosphere ideal and the colon therapy wonderful.

You are a blessing to me and so many others over your 30 years as a practitioner. Your compassion for others makes you a special person doing a divine work.

Thank you

Jessee R Brown – Detroit Michigan