Ask questions about this product
---
Free Shipping and Handling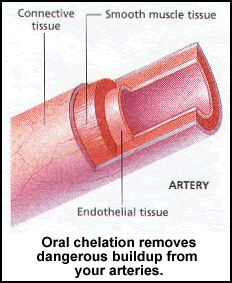 Chelation Benefits Arthritis and Heart Disease
Use chelation to help clean out your arteries. In a study, 92 people who were referred for surgical intervention for heart disease were given chelation therapy instead. After the chelation, only 10 of them ultimately required surgery. The other 82 were able to "bypass the bypass". Doing chelation preventative also makes good sense when you consider that heart attacks are the number one cause of death in the US, currently accounting for 45% of all moralities.
Studies have shown that people who do chelation may lower their lifetime risk of cancer from 35% to 3.5%!
Chelation can safely and effectively remove toxic heavy metals from our bodies. With continued use removes pain of arthritis, bursitis and bone spurs, because it will remove uric acid and calcium deposits from the joints.
Laboratory tests have shown that chelation therapy can increase the lifespan of animals an amazing 49.4%. Chelation kept them younger, longer. A 49% increase in human lifespan would give us an average lifespan of 120 years.
Taking chelation with a doctor through an IV costs $2,000 to $3,000. Taking chelation rectally only costs $50 to $100, depending on the severity of the problem.
CHELATION REMOVES TOXIC METALS LIKE MERCURY, ALUMINUM, LEAD, CADMIUM, NICKEL, BARIUM, ARSENIC AND URANIUM, THUS DRAMATICALLY REDUCING ARTHRITIS CONDITIONS AND CANCER RISK. ORAL CHELATION REMOVES CALCIUM FROM THE SKIN WHICH CAUSES WRINKLES. SEE SKIN BECOME YOUTHFUL AGAIN.
Testimonials:
I am 83 years old and had arthritis in my hips so bad I had to use a walker to walk and the pain was awful. After using 2 bottles of your oral chelation, the pain diminished dramatically and now I use 1 teaspoon a day for prevention.
I had bone spurs and great pain and had prescription meds to lift pain. I am now on my 3rd bottle of oral chelation and my pain is totally gone.
---
Cost: $89.98 and Free shipping and handling