Ask a question about this product
I am writing to share with you my satisfaction of your Home Colonic Unit. I think this unit is wonderful. It is affordable and small to use in your own home and very effective in getting results. There is nothing like it out there. The concept is genius.

Lena Jensen
---
Product ships with a 6′ Hose
Included with unit:
Simple Instructions
1 Carrying Case
2 Complete speculum sets
1 Magnetized Filter
1 Lubricating Gel
4 Under pad Protectors
Fitting for faucet on sink
Filtration Capacity: 15,000 gallons
Two family members can use it.
Under $2 dollar per colonic
Simple to assemble
Use at home,hotel, fits most faucets
The Pure Water filter has magnetic wave for changing water structure. The filter removes the following from your water supply: chlorine, lead arsenic, TTHM, mercury, cadmium, fluoride, lindane, barium, methoxychl, selenium, trichlor, toxaphene, + More Filters 12,000 gal. of water or 6 months every day use.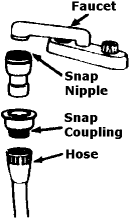 Attaching fitting to faucet:
INSIDE FAUCET THREADS – (13/16″ I.D.) Place washer over top of aerator and screw to the inside of faucet spout threads by hand.
OUTSIDE FAUCET THREADS – (15/16″ O.D.) Top washer (thick rubber) is not needed for outside threaded faucets. Aerator is easily screwed by hand onto outside threads of faucet spout. Do not remove inner washer on Water Saver aerators, as it is the flow restricting device.
---
Shipping $40.00
Visa, MasterCard, Discover